Long-haul high capacity, low latency stabilized system for offshore communications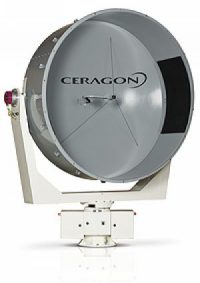 overview
Ceragon's PointLink Long-Haul is a marine-grade microwave connectivity system that provides a secured, high capacity, low latency solution, enabling your offshore operations to meet your business objectives. It integrates highly reliable microwave equipment with customized antenna stabilization technologies as well as resilient paths and topologies to provide you high reliability and most importantly, peace of mind.
The system allows mission-critical performance in harsh conditions with state-of-the-art stabilization system and customer specific software and integration. The PointLink Long Haul antenna is stabilized using an innovative GPS motion sensors control system capable of maintaining an extremely high degree of pointing accuracy regardless of motion and sea conditions. Delivering a throughput of multi gigabits per seconds, the PointLink Long Haul is simply the best performing microwave radio technology on the market. It is:
Durable in the harshest marine environments
Certified for safe work in highly explosive environments – ATEX Zone 1
Guaranteed to provide bandwidth for mission-critical services through built-in QoS mechanism
Designed for backbone offshore networks carrying high capacities in low frequency bands over long distances
The PointLink Long Haul is a superior solution for any off-shore requirement, including remote operations and crew infotainment for moving platforms, drilling rigs and floating production, as well as storage and offload ships (FPSO). The system leverages the high availability, low latency and high capacity of Ceragon's FibeAir IP-20 platform.
Did you know Ceragon holds the record for the world's longest microwave radio hop to a moving offshore rig? An impressive 123km link to Talisman's Yme oil field in the Norwegian North Sea.
Ceragon offers turnkey solutions with a full range of services, including: field surveys, performance calculations, frequency planning, engineering, installation, testing and commissioning. After-sales support and service-level agreements guarantee top performance for the long term
Ceragon's unique PointLink Long Haul system ensures a smooth implementation, from concept to delivery, enabling you to have the peace of mind to run an efficient and safe operation that meets your business objectives and achieves the highest value for you.