PointLink Access - Maritime Broadband Communication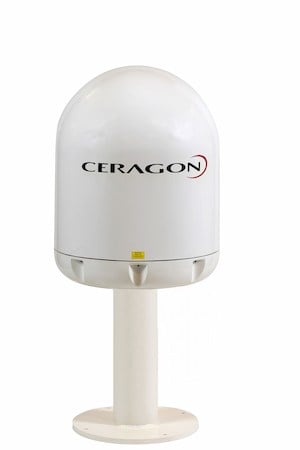 overview
Ceragon's PointLink Access is a marine-grade Point to Point (PtP) and Point to Multi Point (PtMP) connectivity system that provides a secured, high capacity, low latency solution, enabling your offshore and Maritime operations to meet your business objectives. It integrates highly reliable microwave equipment with customized antenna stabilization technologies as well as resilient paths and topologies to provide you high reliability and most importantly, peace of mind.
The modern ultra-light design of the PointLink Access enables effective communication to smaller vessels and mobile users, where the communication is based on a numerous technologies as; LTE/4G in licensed frequency bands, Wi-Fi in unlicensed bands and Microwave links in both licensed and unlicensed bands. The compact light weight design saves valuable deck-space, and with a total weight of approx. 25 kg (50 lb) including data modem, antenna and protective radome, the system easy to install on the vessel.
The PointLink Access system ensures the highest availability, regardless of propagation and weather conditions. The advanced software controls the orientation of the directional antenna, securing optimal link margin in systems deployed on moving vessels and platforms. The system features automatic switch-over between sectors in a multi-sector system, and automatic multi-homing in a distributed base station network. Dual axis actuators compensate for pitch & roll motions up to + 80 /- 30 degrees, with the help of motion sensors. Combined with accurate heading information from the GPS compass, the system ensures a unique pointing accuracy even under highly dynamic conditions.
The PointLink Access stabilized antenna platform is supplied as a dual axis system. The units are integrated in a protective 60 cm radome.
Ceragon offers turnkey solutions with a full range of services, including: field surveys, performance calculations, frequency planning, engineering, installation, testing and commissioning. After-sales support and service-level agreements guarantee top performance for the long term.
Ceragon's PointLink Access system ensures a smooth implementation, from concept to delivery, enabling you to have the peace of mind to run an efficient and safe operation that meets your business objectives and achieves the highest value for you.