In order to motivate subscribers to pay premium prices for premium 5G connectivity, operators need to demonstrate the VALUE they give their customers. But what exactly is value? How can operators know what benefits customers are looking for and communicate those back to them? For that, we turn to a powerful tool used in the value selling approach and apply it to 5G use cases.
In my previous blog post, I looked at the dilemma connectivity providers face today. On the one hand, they must invest in their networks and prepare for 5G to stay competitive and, of course, cover their investments. On the other hand, subscribers view connectivity as a commodity, are not willing to pay much for it, and can easily switch between providers.
I suggested that one way for operators to stop this diminishing return on their investment is to focus on the VALUE they provide subscribers, thereby motivating their customers to "pay for what they get.". While I highlighted a range of benefits connectivity brings us at home, in the office and on the go, one question remains to be answered: "What exactly is VALUE?". The goal of this current post is to answer that question and provide operators with a framework for identifying the value they deliver their subscribers.
Identifying value
A powerful tool to help any solution provider identify the VALUE they are bringing their customers is The Value Triad©[1] – a fundamental tool used in value selling theory. Any solution a customer would be interested in must provide at least one of the three value types: Revenue Gain (RG), Cost Reduction (CR) and Emotional Contribution (EC).
Revenue Gain concerns anything that will help customers increase their income, which also means helping them carry out their (business) activities better. Cost Reduction means that a product and/or service helps customers reduce their direct or indirect costs, including, for example, time, inventory or the cost of money. The final category, Emotional Contribution, refers to the feel-good factor a customer receives from a solution, such as fun from gaming consoles, convenience from mobile or online banking, and risk reduction from alarm systems and metering devices.
We often see that Revenue Gain and Cost Reduction are very tangible and measurable types of value, while Emotional Contribution is harder to quantify and arguably very subjective to customers. However, all three types of value are important. Moreover, the weighting of these value categories will vary from case to case, as the VALUE PERCEIPTION changes from one customer to another.
[1] "The Seven Challenges of Value", Mike Wilkinson and Harry Macdivitt, 2017, Axia Value Solutions Ltd., p.14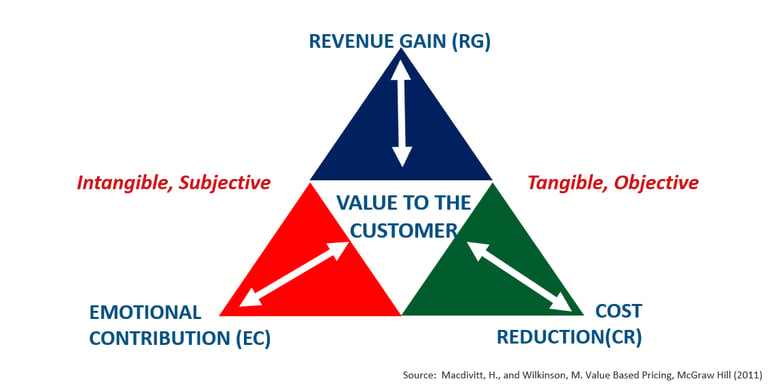 Let's look a little bit closer at what that means for 5G connectivity. While private users are an important customer group for operators, businesses in particular benefit significantly from 5G services. For example, staff productivity is expected to improve greatly, as organizations can achieve their business goals using less resources, which translates into significant Cost Reduction. Typical 5G applications, such as autonomous vehicle, virtual office, massive IoT and AI, help reduce costs related to staff, real estate, transportation and IT investments.
Revenue Gain is another big benefit of 5G services, as 5G allows businesses to carry out their activities faster, considerably shortening time-to-market and time-to-revenue. In addition, increased 5G connectivity enhances service enablement, meaning businesses can reach more customers, expand their market share and grow their top and bottom lines.
The Revenue Gain and Cost Savings businesses can expect from 5G applications build a very strong ROI case for 5G services and should motivate customers to pay a premium. This, in turn, provides operators with the funds they need to invest in their required 5G services and infrastructure.
In terms of Emotional Contribution, increased automation, for example, leaves less room for human errors, clearly reducing worry. 5G connectivity enables work from home and reliable data transfer from the field. As a result, businesses can put their minds at ease, knowing that their employees are connected and can work in an efficient and secure manner no matter their physical location. A range of 5G applications increases environmental awareness, collecting real-time data from the most remote locations, which, once again, reduces risk and increases peace of mind.
Whenever we look at the virtually endless portfolio of digitalization applications and use cases, we need to remember The Value Triad© and look at it through the eyes of customers. Each customer, whether an individual or an organization, will have different needs, which will help solution providers recognize the benefits that specific customers are looking for. By understanding the needs and challenges of each customer, operators can relate back to this model and clearly state how their solution helps customers reduce costs, generate revenue and/or increases their feel-good factor, i.e. emotional contribution.
With respect to digitalization, that clearly explains why there is an increased need for better and faster connectivity at the workplace, at home and elsewhere. And according to the phrase "you get what you pay for," once customers understand the high value they receive, they will be more likely to pay for it accordingly.
To learn more