In response to the growing move toward open disaggregated cell site gateways (DCSGs), Ceragon recently launched its IP-50FX solution - the industry's first radio-aware DCSG. This one-of-a-kind solution cost-effectively combines two key functions in one white-box hardware device: an open cell site gateway/router (CSG/CSR) and a radio indoor unit (IDU).
The IP-50FX leverages software and hardware disaggregation to create an ultra-scalable platform that integrates open hardware, best-of-breed network operating system (NOS) software, and Ceragon's Radio-Aware Open Networking (RAON) software.
Our solution can be implemented on multiple TIP-compliant DCSG hardware boxes, including one internally developed by Ceragon. This gives operators the freedom to choose the best option to meet their port-density and cost requirements.
Ceragon's cost-effective hardware box introduces a large number of ports in one product, a single license for all ports and features, and type C synchronization required by 5G.
IP-50FX Components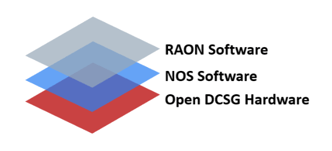 The IP-50FX comes equipped with best-in-class NOS software from IP Infusion, a leading provider of network disaggregation solutions for telecom and datacom operators. Our layer-3 NOS supports segment routing, which enables efficient network slicing required by 5G networks.
With Ceragon's unique RAON software, the IP-50FX gateway acts as a virtual radio IDU, with a single IP address and centralized management capabilities for all connected radios. This translates into easier configuration and monitoring of an entire radio cluster. Fully supporting the disaggregated model, RAON can be integrated with any NOS and any white-box gateway.
RAON software informs the cell site router of any changes in connected radios, allowing smart decisions such as traffic rerouting for optimal use of the valuable radio resource.
IP-50FX supports connectivity to any Ethernet-connected radios up to a 16+0 constellation, including Ceragon's high-capacity IP-50C and IP-50E radios as well as third-party radios. Its high switching capacity and wide port density make it an excellent fit for any cell site or aggregation site that requires ultra-high capacity, multi-directional functionality, and routing/switching capabilities.
The IP-50FX offers significant cost and flexibility benefits to operators. Since operators can select various high-end or low-end hardware solutions in different network locations, they can reduce CAPEX. Since they no longer suffer from vendor lock-in, operators can change hardware vendors over time with minimal switching costs. This also means they can rapidly scale network capacity and add new advanced services.
The radio-aware DCSG platform also leads to faster innovation. Thanks to the separate evolution paths for hardware boxes, software and radios, each vendor can more rapidly develop and introduce new capabilities and technologies for the benefit of their operator customers.
For more information about the Ceragon IP-50FX, check out:
Want to know more?