Wow! That was amazing!!
I've just returned from a fabulous nine-day luxury cruise in the Baltic sea – truly the perfect balance of leisure and adventure.
I planned this trip for over a year, booked a balcony mid-ship cabin on a top floor, and signed up for every shore excursion offered. I really did my homework – studied every port, read up on all 20 different exquisite dining options, explored the aqua park with over five different waterslides and the sports complex including a rock climbing wall and ropes course, as well as the mini-golf and bowling lanes.
Did I mention it was my best cruise ever? Well… almost.
The only drawback to this luxurious cruise was connectivity… or should I say lack thereof!
Not only did the cruise take place during the World Cup Games (which my husband and teenage son are obsessed with), but as a director at a global company, I need to be connected at all times. I called in advance and was assured I could get offshore access to unlimited web surfing, email access, social media access, all apps, and most importantly streaming – which is why I signed up for the Unlimited Premium Wi-Fi Package at a whopping rate of $34.99 per day (beyond the roaming data shore packages I pre-purchased from my local provider).
In reality, the internet service on-board was provided via a satellite-based connection and it was very limited! This meant I had minimal access to emails, slow browsing and an occasional whatsapp voice call – but that was pretty much it and watching live feeds of the World Cup games remained a fantasy for my husband and son.
It was the strangest combination of state-of-the-art facilities across the entire ship, but with a dial-up like internet connection. Seriously, we got a different animal-shaped towel arrangement on our bed every night – but no connectivity with the outside world!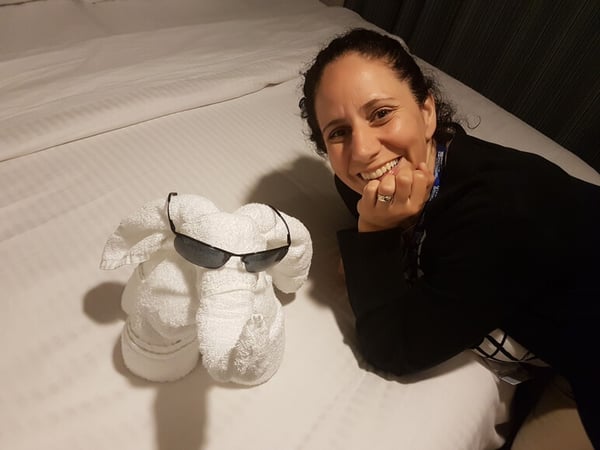 You're probably wondering what the fuss is about, thinking that it's actually really great to disconnect when you're on a vacation. And yes, in an ideal world you're right. However, in our modern era, broadband internet really is a minimal necessity – even on a cruise.
The challenge – getting broadband to an offshore vessel
This poor performance is a result of the way offshore vessels are typically connected to the internet – via a satellite connection. This type of connection has three major drawbacks – capacity, latency and price.
The result of these drawbacks is that crew ship companies pay a lot for a narrowband connection that suffers, on top of the very low capacity, from very high latency which makes their end customer experience a truly lousy one.
For the cruise ship operator, this becomes a major issue. While revenues from this particular service represent a small portion of revenue stream, the effect of non-satisfied customers may reflect on the demand for a specific cruise line, which may severely affect revenues in the future. I actually attended a session called "Meet your Captain", wherein the very first question from a guest to the captain was regarding internet connectivity. The gentlemen, who was a distinguished factory owner, needed to monitor video footage from his various sites. He was extremely frustrated that he (like me) called to confirm streaming was available, paid for a premium package and was unable to get service. The captain replied that they work with a provider who to their best knowledge provides the best-in-class solution available on the market… which I know is not the case.
But broadband connection is not only a matter of customer satisfaction, it is also a way to retain (or not) staff, which on my luxury cruise included a crew of over 1,600 from over 45 nationalities. Recruiting and training staff for cruise ships is a costly task – so retaining this staff should be top priority. In fact, it's been proven that by providing broadband internet usage to cruise ship staff during their off-hours can dramatically improve their overall satisfaction and thus, staff retention.
Broadband connectivity can also greatly improve additional ship and cruise operational tasks, including passenger-manifest transfers, payments and billing; as well as navigation, system monitoring, CCTV, remote file storage, Electronic Notice of Arrival/Departure (ENoAD), catering and store ordering, emergency operations and response. These are all made so much simpler and more efficient with broadband connectivity.
The solution – offshore communications go broadband
The fact that cruise ships spend most of their journey in a relativity close-to-shore environment enables a cost-efficient ultra-broadband alternative to satellite connectivity. While typical distance from shore leaves the ship, in most cases, out of reach for mobile coverage, a point-to-point solution can provide broadband connectivity to ships that cruise 10s of miles from the shore.
The issue is that point-to-point systems do not usually support moving end points. This is solved with Ceragon's PointLink solution. This solution incorporates Ceragon's unique wireless transport technology with Ceragon's tracking mechanism that allows connectivity to a moving vessel by adjusting the link's direction as the vessel changes its location.
This solution was developed with offshore environments in mind and provides a solution for vessels as well as oil & gas floating rigs, deep water fish farms, and more.
With 0.2°pointing accuracy regardless of weather conditions, crew ship companies can leverage the benefits of broadband connectivity – ensuring their revenue stream, retaining their staff and increasing their operational efficiency.
Now that I know there is a solution, I will make sure I book my next cruise on a ship with broadband!
Click learn more about Ceragon PointLink Platform