After discussing the unique opportunities and challenges of 5G, let's talk about how to overcome them.
How can you unlock your 5G business potential, launch new services, and address new target markets while overcoming the new dimensions of 5G network challenges – orchestration of multiple 5G use cases, multiple network scenarios, and multiple 5G RAN frequency bands?
Solutions addressing these challenges need to be, first and foremost, flexible. While this is true in all network domains, let's focus on the wireless hauling domain, and talk about Ceragon's flexible wireless hauling solution as an example of an optimized 5G network solution.
The first flexibility metric is spectrum flexibility.
The need for more capacity, lower latency and support of multiple network architectures calls for flexible hauling solutions with spectrum that spans well beyond the "classic" microwave domain.
True, the microwave domain (4GHz-42GHz) remains a cornerstone in cell site connectivity, as it provides long distance and high-availability connectivity to both macro and small cell sites.
Nevertheless, when it comes to multi-Gbps connectivity, the narrowband spectrum of microwave is simply not enough. This is where we expand our solutions to the more available (and significantly less costly) millimeterwave bands.
E-Band (71GHz-81GHz) is the current selection of choice for solutions that require up to 20Gbps connectivity over a medium distance (typically up to 5km). The short reach is a limitation, but the fact that the urban cell site network is becoming denser and denser usually means that the required distance is fairly short. And even if it is not, a multiband solution can be implemented to extend the reach of such high-capacity links.
Is E-Band enough to cover all the challenges of 5G?
In most cases today, yes it is.
However, things change when we look down the road at central RAN or dual split RAN architectures in new mid-bands and high bands of the RAN. In such cases, we will face scenarios in which a fronthaul connection will have to accommodate traffic of wide RAN channels. This may result in capacity needs greater than 20Gbps.

These types of capacities, alongside the requirement for fast and cost-efficient deployment of new sites, call for wireless solutions that will range way above 20Gbps, to as much as 100Gbps over the air.
These kinds of solutions require wider channels. Since E-Band is usually limited to 1-2GHz channel spacing, higher frequencies such as W-Band (92GHz-114.25GHz) and D-Band (130GHz-174.8GHz) bring the possibility of using wider channels – in some cases up to 5GHz. Those wider channels will allow much higher capacity and a clear solution for all 5G capacity issues.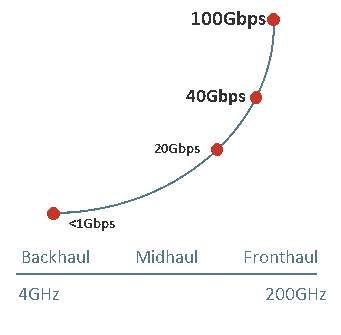 So, we are OK with the capacity requirements of different hauling scenarios. What about latency?
Midhaul and fronthaul pose new latency requirements. While backhaul requires up to 10ms (10,000us) of latency, midhaul scales the requirement down to <1,500us, and fronthaul, depending on specific implementations, may require <25-200us.
This is a new scale that requires, once again, much wider channels that reduce connection latency. So millimeterwave is sufficient for 5G hauling in this aspect as well.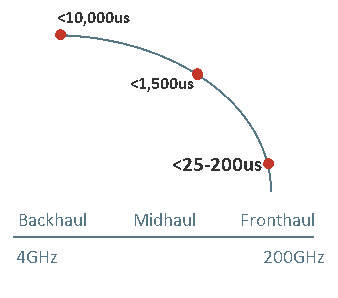 To conclude, hauling spectrum flexibility, with solutions ranging from 4GHz up towards 200GHz, is essential to resolving 5G challenges and unlocking 5G potential.
Spectrum flexibility enables:
higher capacity – up to 100Gbps
lower latency – down to 25us
any hauling scenario – backhaul, midhaul and fronthaul
flexible site acquisition – with compact all-outdoor solutions that eliminate dependency on fiber, save time and reduce costs
In our next blog post, we will discuss the second flexibility metric required in 5G networks – disaggregated wireless backhaul.