Previously, we have discussed the amplified and diversified challenge curve of 5G wireless backhaul. This challenge curve requires deploying more sites, building much more capacity, enabling multiple 5G use cases over the same network, and dealing with mass deployment. We also talked about disaggregation, a crucial concept when it comes to resolving the aforementioned 5G challenges.
And lastly, we described the way we can extend the disaggregation concept to accommodate the specific challenges of wireless backhaul. This means not only splitting between hardware and software, but also taking another step and separating the radio element, which extends flexibility and enables an additional and independent innovation path.
This discussion, while very appealing in theory, needs to migrate into the implementation phase. And now it does. This week, Ceragon is introducing its unique disaggregated wireless backhaul platform, the IP-50. Leveraging the discussed benefits of disaggregation, this platform complements Ceragon's existing IP-20 platform with additional capabilities and flexibilities, while addressing more 5G challenges. The IP-50 platform features three products, each bringing unique capabilities and benefits to selected 5G network scenarios.
IP-50E: 20Gbps universal E-band radio
The IP-50E introduces ultra-high capacity of up to 20Gbps to your network, supporting a pay-as-you-grow strategy with up to two units in XPIC configuration. Wherever you need fiber-like capacity for fronthaul, backhaul or wireless access applications, the IP-50E is your cost-efficient, easy-to-deploy fiber-replacement solution. The IP-50E also allows extended E-band reach with no compromise on availability, thanks to its unique multiband capability. Using layer-1 carrier bonding, the IP-50E enables you to combine this high-capacity carrier with any additional microwave, fiber or leased line connection, thereby insuring your high-priority service offering meets its SLA target.
Combined with Ceragon's IP-50C or IP-20C radio and a multiband antenna, you can achieve a compact, all-outdoor, direct-mount 3-carrier solution (single-carrier E-band + two-carrier microwave). This saves on tower load and shelter requirements while simplifying installation, allowing faster time to market and enhancing operational efficiency.
IP-50E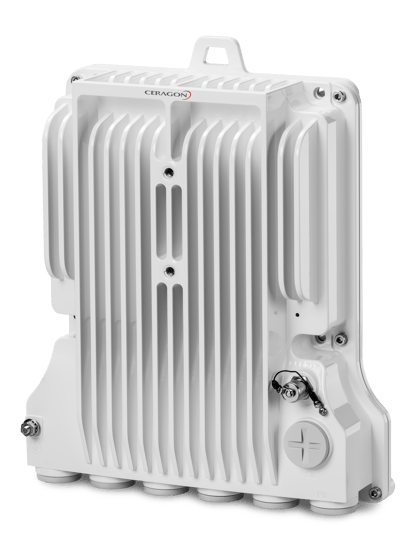 IP-50C: Universal multicore microwave radio for all deployment scenarios
The world's best all-outdoor microwave radio just became better. The IP-50C universal microwave radio is the evolution of the IP-20C, the world's best-selling wireless backhaul outdoor radio. The IP-50C brings new capabilities that allow you to base your entire network, from small cells to massive aggregation sites, on this single radio – reducing complexity, costs and time to revenue.
The IP-50C can be deployed as a stand-alone all-outdoor radio, or combined with an indoor unit (the IP-50FX) as a scalable aggregation node and cell site router. Either way, you can leverage all the benefits of Ceragon's cutting-edge multicore technology. A unique configuration of an all-outdoor 4+0 node (utilizing layer-1 carrier aggregation) allows you to achieve up to 8Gbps by layer-1 carrier bonding without a need for an additional indoor unit. Moreover, using the IP-50C, you may upgrade your existing all-outdoor installed base (whether Ceragon IP-20C 2+0 or any third-party all-outdoor) into 4+0 using layer-1 carrier bonding. This enables you to turn more sites in your network into all-outdoor sites, thereby reducing time to market, lowering CAPEX and OPEX, and simplifying site acquisition tasks.
IP-50C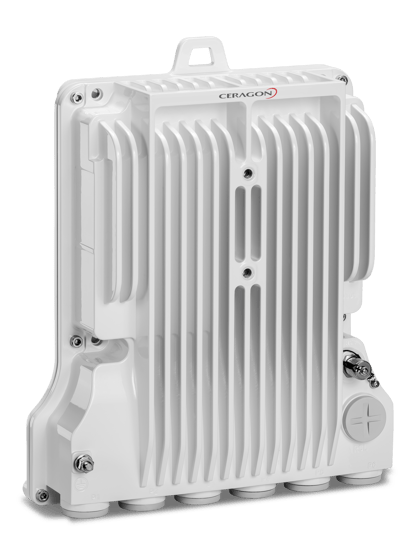 IP-50FX: Disaggregated wireless backhaul router
The IP-50FX wireless backhaul router combines a cell site router with radio-aware features that support the IP-50C and IP-50E radios, as well as any Ethernet-connected radio or fiber. Its high switching capacity and wide port density make it an excellent fit for any cell site or aggregation site that requires ultra-high capacity, multi-directional functionality, and switching/routing capabilities. The IP 50FX utilizes layer-1 carrier bonding over Ethernet, as well as SyncE, 1588-TC/BC and ETH-BN. This enables the router to serve as a revolutionary solution for any multi-carrier requirement – you can create a high-capacity trunk with any outdoor radio connected via Ethernet.
IP-50FX
The IP-50FX leverages software and hardware disaggregation to create an ultra-scalable platform. You can increase capacity and interfaces by simply moving to a larger white box-compatible HW variant while keeping all SW functionality and product look & feel intact. When multi-carrier configuration calls for more than four carriers, with layer-1 carrier bonding for best utilization of the spectral resources, the IP-50FX is your answer. The wireless backhaul router can connect to any combination of Ethernet-connected radio 8+0 constellation and act as an indoor unit, performing layer-1 carrier bonding.
Watch our webinar to learn more about Disaggregated Wireless Backhaul