E-band mmW is ideal for varied 5G, 4G and enterprise use cases. Ceragon's IP-50E is a cutting-edge E-band solution that delivers ultra-high capacity of up to 10 Gbps throughput in a single box. Offering a variety of advantages compared to other industry E-band solutions, the IP-50E delivers key benefits to operators and enterprises alike.
In recent blog posts, we reviewed the many and varied use cases for E-band millimeter wave (mmW).
We found that E-band mmW is ideal for 5G fronthaul and midhaul, since ultra-high capacities of 10 Gbps and above are required in both of these scenarios. We discussed how 5G fronthaul and midhaul are growing in importance due to the move toward disaggregated network architectures.

We also reviewed how E-band mmW is a great solution for additional compelling use cases, including fiber extension, large enterprise connectivity, SME/SMB connectivity, and 5G/4G macrocell and small cell backhaul.
Additional compelling use cases for E-band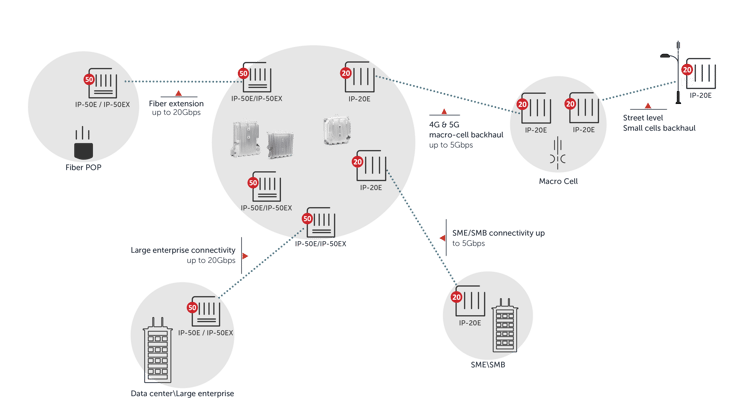 For the use cases described above, E-band mmW offers many advantages, including high spectrum availability and ultra-high bandwidth (up to 20 Gbps) vs. traditional microwave; very low latency performances (even lower than 20 microseconds) due to wide channels; and rapid installation and return on investment (ROI) vs. buried fiber.
Now let's turn our attention to the IP-50E, Ceragon's ultra-high-capacity E-band solution.
In brief, the IP-50E is a cutting-edge E-band solution that delivers ultra-high capacity of up to 10 Gbps throughput in a single box. When two radios are deployed together in an XPIC configuration, the solution supports 20 Gbps over a single cable.
Ceragon IP-50E E-band solution
The IP-50E offers a variety of advantages compared to other industry E-band solutions:
Flexible Antenna Options: The IP-50E can be installed with an integrated or external antenna in either 1ft, 2ft, or 3ft diameter.
Internal Antenna: IP-50E's integrated ETSI class 3/FCC flat panel antenna is small and light weight, helping to reduce your tower load, real estate requirements, and total cost of ownership (TCO).
External Antenna: Pairing the IP-50E with a stabilized 3ft antenna dramatically increases reach by an additional 45%.
Radio unit with integrated flat panel antenna
System gain: The IP-50E has one of the industry's highest levels of system gain in various channel BW scenarios (500,1000, and 2000 MHz). High system gain helps to improve mmW performance under various climate and environmental conditions, and to define its maximum reach.
Max Tx level: With maximum radio transmitter (Tx) power of 20 dBm, the IP-50E compares favorably with other E-band solutions offering 16-19 dBm. Increased power leads to longer effective wireless transmission ranges.
Number of 10 GE ports: The IP50-E comes with five 10 GE ports, compared to competitive solutions offering only 2-3 such ports. This increases deployment flexibility and lowers overall solution equipment costs.
IP-50E port configuration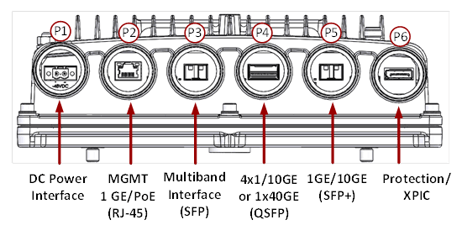 XPIC configuration: The IP-50E supports cross-polarization interference cancellation (XPIC). In an XPIC configuration, the IP-50E can deliver 20 Gbps over the air with a single 40 GE cable, leading to lower OPEX and CAPEX.
1+1 HSB configuration: The IP-50E also can be deployed in a 1+1 hot-standby (HSB) configuration. This redundant configuration allows operators to achieve increased availability and reliability.
Fronthaul CPRI/eCPRI/Ethernet support: The IP-50E has native support of Common Public Radio Interface (CPRI) and modular plug-in support of enhanced CPRI (eCPRI). This allows operators to use one radio (using CPRI, eCPRI or Ethernet) for any fronthaul, midhaul, backhaul or access application.
Multiband support: The IP-50E can be deployed in tandem with two existing microwave radios, delivering three carriers over a single antenna. Uniquely supporting both Ceragon and third-party equipment, the IP-50E's multiband capability increases network reliability and flexibility while decreasing deployment times and operating costs.
Sample multiband deployment
Power consumption: The IP-50E's power consumption of 58W is one of the lowest in the market. This low power consumption decreases operating costs and TCO.
Size and weight: Compared to most other industry solutions, the IP-50E has a relatively small volume and weight. This smaller size translates into reduced real estate costs and easier installation.
Universal radio: The IP-50E supports both all-outdoor and split-mount configurations. Operators can deploy this one universal radio for multiple use cases and configurations, leading to ease of installation over all network segments, as well as faster time to market and time to revenue.
In sum, these many advantages of the IP-50E solution lead to a number of key benefits for operators and enterprises:
pay-as-you-grow scalability
extended reach without compromising availability
reduced tower load and shelter requirements
faster installation and time to market
enhanced operational efficiency
reduced CAPEX and OPEX
Learn more about our IP-50E E-band mmW solution